EDDIE BAUER CREDIT CARD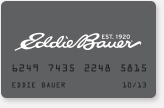 ENJOY THE BENEFITS*
Join Eddie Bauer Adventure Rewards and earn an additional 2% in Rewards on every purchase when paying with your Eddie Bauer Credit Card**
Free Return Shipping on all orders with your Eddie Bauer Credit Card.
Exclusive cardholder discounts
*Subject to credit approval. Eddie Bauer Credit Card Accounts are issued by Comenity Bank.
**Must be member of Eddie Bauer Adventure Rewards program to receive and only accounts in good standing will receive additional Rewards. This rewards program is provided by Eddie Bauer, and its terms may change at any time.
For full rewards terms and conditions, please click here.
 
LEARN MORE AND APPLY
Apply by phone: 1-800-426-8020.
California Residents: By applying, you agree to opt-in to financial incentives offered as part of the Eddie Bauer Credit Card sign up. For more information about these financial incentives offered by Eddie Bauer including material terms, please visit the financial incentives section of our Privacy Policy.
ACCESS YOUR EXISTING EDDIE BAUER CREDIT CARD ACCOUNT
Manage Your Account Online:
With Online Account Center, you can
Pay your bill
Check your balance
See your credit limit/available credit
View and download transaction information
Find other time-saving features